I've made a few very simple stacking rings for my Etsy shop, and I even made a set for myself – I wear them a lot just because I like the clean, simple lines of them. As I try new techniques and branch out a bit in my jewelry style, I'm adding some slightly different designs to my (somewhat small) line of rings.
The challenge with making rings is this: while ears come in a general size, fingers do not. So if you make rings, you have a couple of choices:
Make one ring in one size. Offer that one ring for sale.
Make a lot of rings – randomly – in various sizes. Love it but it's not your size? Too bad.
Make one ring as a sample – offer to make it again in custom sizes.
Make a bunch of one type of ring in a bunch of sizes, hoping that they sell.
Right now I'm utilizing options 1 and 3 – I have a couple of rings for sale that are pre-made in a specific size, ready to ship, and I also have some custom listings available, and those rings will be made to order.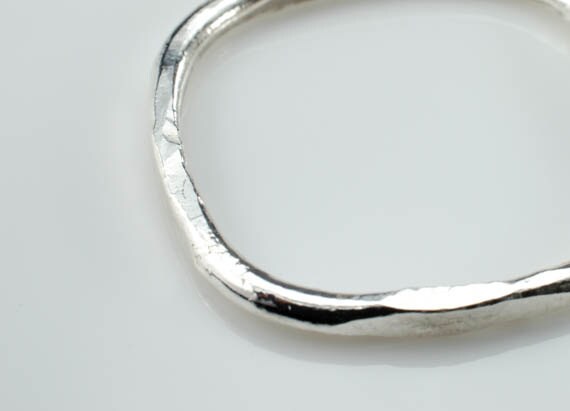 It's a drag, though. people generally want their item to ship quickly, so making items to order may slow down the delivery time and cut into that "instant satisfaction" feeling. But making a bunch of sizes means you're using up materials to make products that may never be purchased.
There's one option that I haven't listed, and that's to make rings that are adjustable. However I don't like this option – I personally feel like the adjustable rings are kind of cheap-looking, and I'd rather pay more for something sized to fit me.
What's your preference? Would you be willing to have something made to fit, just for you? Or would you rather order something ready-made?